Hunkar Valves
Hunkar Laboratories offers a wide variety of valves for use in the blow molding process. Below you will find useful information on the Hydro-Jet 2 valve
HYDRO-JET 2
Hunkar Laboratories presents the latest innovation in blow molding Servo Valve technology.
The HYDRO-JET 2 dirt tolerant valve is so stable it now requires NO Null Adjustment. HYDRO-JET 2 has a null stability of 5% of rated current throughout its entire useful life, so it does not require any null adjustment. Additionally, the first stage jet-pipe within the unit will pass 130 micron particles without failure.
The HYDRO-JET 2 has a resolution of ¼% of rated current, delivering substantially improved precision
compared to other jet valves used in the industry today. The efficient four air gap torque motor drives the jet-pipe hydraulic preamplifier and controls the second stage spool. HYDRO-JET 2 has been developed and constructed to withstand the most demanding plastics blow molding applications.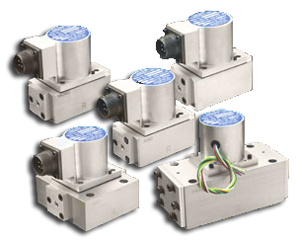 Features
Fixed Null Accuracy
Highly Dirt Tolerant
High tolerance to contamination.
The first stage jet-pipe will pass 130 micron particles without failure.
Protected by a proprietary 90 micron absolute strainer.
The second stage is precisely controlled by a high gain frictionless force feedback servo system.
Dry torque motor in a sealed housing
Compact smaller design profile
Benefits
Continuous operation despite mild hydraulic oil system contamination.
Zero maintenance and smooth operation.
Easy replacement on old machines.
Fits a wide range of machines.
Economical replacement for most servo valve brands.
Rapid, simple bolt on installation.
Durable construction for long service life.
Accurate, smooth and repeatable performance.
Performance Specifications
Rated Flow: 5 GPM ±5% *
Hysteresis: Normally less than 3% of rated current
Resolution: ¼% of rated current
Linearity: 5% of rated current
Frequency Response: -3dB as 60 Hz
Pressure Gain: 25% of System Pressure/1% of rated current
Null Shift vs. Supply Pressure: 2%/1000 PSI
Null Shift vs. Oil Temperature: 2%/100° F
Total Internal Leakage: Less than 0.35 GPM at 1000 PSI
System Requirements
Operating Fluid: High Grade Petroleum oil, 100 to 150 SSU at 100° F.
Filtration: 75 micron absolute (or better) pressure line filtration, non by-passable with 3000 PSI element.
Operating Supply Pressure: 1000 to 3000 PSI
Operating Temperature: 40 to 250° F.
Rated Electrical Input: 70 MA into 80 W (5.6V)
Recommended Accessories
Manifold P/N 86033
Flushing Block P/N 86041 * Rated Flow: 16 GPM also available.